Starfish Wedding Invitations
One of the fastest  growing trends in the wedding invitation market place is Starfish Wedding Invitations.
Starfish themed wedding invitations are a great way to invite your friends and family to your destination or beach themed wedding. The starfish is such an iconic image of the ocean no wonder it has become such an important image on tropical beach themed wedding invitations. Sure you could have a fish, a dolphin, or a clam on your destination beach wedding invitation but its not going to reinforce the message to your guests that they are going to a beach wedding.
Beach destination weddings are ultra popular these days. Could you blame a couple in love from wanting to have this type of wedding?  The natural beauty of a tropical sand beach is the perfect back drop for wedding photos. Wedding guests will get a vacation they will remember for the rest of their lives. And you and the future husband won't have to book a separate honeymoon as you will already be staying in your own personal paradise.

Why Starfish Wedding Invitations Are So Perfect
Of all the types of traditional and non traditional wedding invitations out there you are probably asking your self "why a starfish"?
Well as we said above starfish are an iconic image of the ocean and more specifically the beach. They are a peaceful and serene image of the ocean that can easily be identified by all people both young and old. Being a symbol of peace and stability speaks to most couples. It is the reason most of us get married. We find that special someone in our lives who gives us a peaceful stable existence and its hard not to spend the rest of your life with them.
One fun fact about Starfish is they can live a really long time. Some have actually been know to live up to 35 years. So not only are they a great ambassador to peace and stability but they will also speak to your long lasting marriage.


Other Symbols Of The Ocean That Will Go Well With Your Starfish Wedding Invitations
Below are some other nautical symbols or sea creatures that look good on beach wedding invitations.
Palm Trees – Another iconic image of romantic tropical beaches are palm trees. Look for images on your destination beach wedding invitations that highlight two palm trees. The palm trees will signify the strength you to love birds have in your relationship.
Tropical Beach Photos – Like the old saying goes a picture is worth a 1000 words. You will find a lot of tropical beach wedding photos through out your search online for starfish wedding invitations. It is almost impossible for your guests to not RSVP when they see a beautiful photo of a tropical beach.
Sea Shells – Although the Starfish is the king of the beach wedding invitations other sea shells can make some truly beautiful invitation on there own.
Nautical Stripes – Another very popular image you will find on starfish wedding invitations are nautical navy blue and white stripes. They were they symbol of dress for men and woman in the navy. Today they are becoming more and more fashionable not only on wedding invitations but also in summer fashion trends.



Elegant wood BLue Seashells Beach Wedding Magnetic Card
by
ThemeWeddingBoutique
View other
Seaside wedding Thin Magnetic Cards
Where to Shop For Starfish Wedding Invitations
One of the hardest parts about planning a themed wedding especially a beach themed wedding is staying somewhat consistent in your wedding decor and wedding favors. When shopping locally it can be a real challenge to find classy beach wedding anything unless you live on a coastal town or city. Most brides we know who try and buy everything locally usually end up disappointed with the selection. A common comment we get from former beach brides to be is that what they were able to find looked like something from the walls of a red lobster restaurant.
For this reason alone we suggest you start your search online for your starfish wedding invitations. Actually we suggest all brides to be begin searching for their wedding invitations, dresses, favors, and venues online. The reason for this is the internet is the largest marketplace in the world. Your search won't be limited to local wedding traditions an trends.
Browsing for wedding inspiration and products online allows you and your hubby to be the opportunity to see what's out there and also what it should cost. Its great prep work to do a little bit of research before you go hitting up the wedding boutiques in your home town.
Shopping online is super convenient to. A quick search on your favorite search engine on your home computer or smart phone will put you in touch with hundreds of thousands if not millions of references to your search term "starfish wedding invitations".
As we said above the internet is the largest market place in the world. If you are shopping for something as rare as starfish wedding invitations its probably the best place to start.

Wedding Decorations and Favors to go with your Starfish Wedding Invitations
Ok so you have found the perfect starfish wedding invitations. That's great. Now your wedding shopping isn't done just yet. You still have to find some matching nautical beach wedding decorations and favors.
Below is just a small selection of beach wedding decorations and favors to go with your starfish wedding invitation.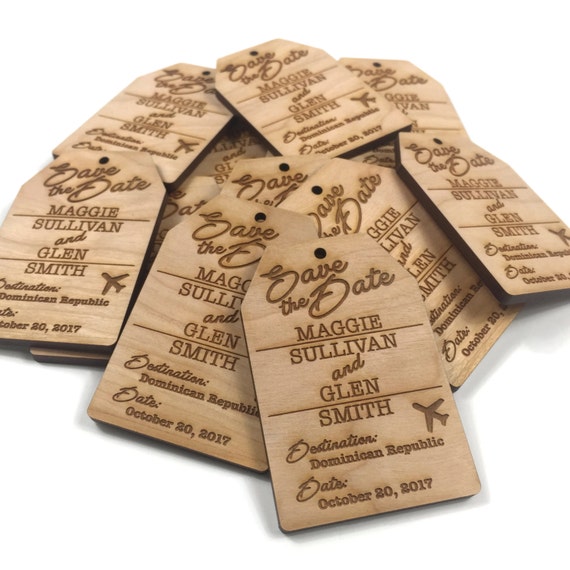 Save the Date destination wedding wood Fridge Magnets
Elegant wood BLue Seashells Beach Wedding Can Cooler
by
ThemeWeddingBoutique
View more
Seaside wedding Coolers