A Guide To Groom Wedding Checklist
Guys, a wedding is one of those days in our lives when our girls will expect us to look our best. Especially if it is for our own wedding or a wedding we have been asked to take part in. Dressing formal might not be a everyday event for us but it is event we should all want to to look our best for. We suggested this Guide To Groom Wedding Checklist to help you be the best dressed groom.
If you are the groom of the wedding you are probably going to work closely with your bride on your style of dress. Your suit or tux will compliment the theme and color of the wedding. The way you dress on your wedding day will also compliment the brides and her dress. For the rest of our lives we will be supporting this woman we love.
Taking Responsibility For Someone Else
Throughout the planning and preparing for your wedding you are going to come to realize that you are taking responsibility for another person when you get married. Making this kind of commitment means you will be there for them for the rest of their lives. Our first commitment we should make is to ourselves to improve our health. Not only will we look better for the wedding but we will also improve our lives in the long run.
As soon as we propose to that girl we want to spend the rest of our lives with we should start making some positive changes. Everyone can improve a bit on their eating, drinking, and exercising routines. Between now and the wedding you are going to have a few stressful days but with bit of work at the gym you should be able to work through it all. I'm not saying you have to go pro-bodybuilder or run a marathon I am just saying you should start to be a bit conscious of your health. Someone is now counting on you to be with her for a very long time.
Don't For get to buy gifts for the parents.
Mother of the bride gift ideas
Mother of the groom gift ideas
Father of the bride gift ideas
Father of the groom gift ideas

River Island Suit In Linen In Blue

Skinny Suit Jacket In Gray Poplin
Cleaning Up Before The Wedding
Below is a little reminder of A Guide To Groom Wedding Checklist of things they should right before the wedding.
Book an appointment with your hairdresser a month or two in advance of your wedding. You will want to get your haircut a week or two before the wedding.
Polish any jewelry you plan on wearing. Ensure your watch, cuff links, glasses are cleaned and shined before the wedding.
Shine your Shoes and Wear Dark Socks. Unless it is a beach wedding.
Ensure suit or tux is sent to the cleaners to be cleaned and pressed two to three weeks in advance of the wedding. If anything happens to the suit or tux you will need time to find an alternative. Make sure you know how to tie a necktie and how to fold a pocket square.
Shower and wear cologne the day of the wedding. You will be hugging a lot of people and shaking a lot of hands during the wedding day. Look good and smell your best.
Bring a just in case bag. Bring a bag with a comb, gel, cologne, and anything else you will need to look your best.
A Guide To Groom Wedding Checklist
A New Suit – If you are planning a less formal wedding you may just want to buy a new suit instead of renting a tux. You can always use a new suit and every guy looks good in a black jacket and pants. You can match your suit with the wedding theme as well.  A white suit is probably great for a beach wedding, a traditional black suit is a good option for a church wedding, a western suit is awesome for a cowboy wedding or western country wedding.

Presidential Giorgio Napoli Men's Two Button Suit White (38 Short US / W 32 US, White)
This relaxed white suit is good for a vintage wedding or beach wedding.
Ties – Like a new suit you can always use a new tie. Here are a few you might want to wear on your special day. You can always match your tie color with your bride's favorite wedding color, the trendy colors are teal and tiffany blue this year. Bow tie is an amazing choice for a formal white wedding or vintage wedding.
Cologne – A must for any man attending a wedding is a nice cologne or after shave. You can match the cologne with your wedding theme as well.

Thierry Mugler Cologne Spray, Angel Men Pure Leather, 3.3 Ounce
This earthy and masculine cologne is great for a western country groom.
A Bit of Bling – Whether it be a new watch, cuff links, or a bracelet make sure you show a bit of sparkle at your wedding.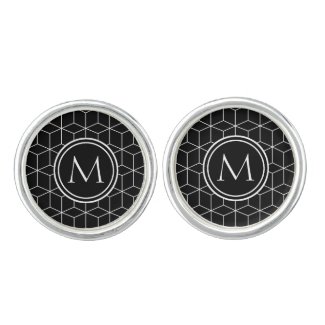 Elegant Monogram Cufflinks
by
RicardoArtes
Find other Monogram Pairs of Cufflinks at
zazzle.com
Hope this A Guide To Groom Wedding Checklist will help the groom to look his best on the big day!
Click here to return to Our Wedding Shopping List.
Save
Save
Save
Save
Save
Save
Save
Summary
Article Name
A Guide To Groom Wedding Checklist
Description
We provided a guide to a modern groom , a guide to groom wedding checklist to help grooms make the wedding day perfect.
Author