Attending The Wedding Reception
After the wedding ceremony is complete you will want to make your way to Attending The Wedding Reception.  Between the wedding ceremony and the wedding reception you will find that their may be an hour or so to give the bride and groom time to take some photos at the venue for the wedding ceremony. If you do have to travel to another location to Attending The Wedding Reception you may have some time on your hands to kill.  When you are trying to plan your route from the wedding ceremony to the reception try to find a coffee shop or lounge along the way. When the other guests are trying to figure out what to do with their extra hour or so you will be that awesome wedding guest who can step in provide some of the other guests options to kill some times. But remember you will want to arrive 20-30 minutes before the event to do a bit of mingling. You also don't want to be the reason everyone is late forAttending The Wedding Reception.

Wedding Dance Floor Decal, Wedding Floor Monogram

Multiway Mesh Mini Dress
Attending The Wedding Reception Etiquette
If at any point during the wedding your are going to be labelled a bad guest it will be at the wedding reception. Most people can manage look their best, buy an amazing gift, and be on their best behavior during the wedding ceremony. So you have to ask yourself what happens at the wedding reception that causes a great guest to become a shunned friend or family member? Alcohol! Lots of Alcohol!
Below are a few pointers we have put together to try and help you maintain reputation throughout the entire wedding.
Drinking At The Wedding Reception – Most guests before the diner is even served will have at least one or two drinks in them. A lot of wedding receptions start off with a cocktail reception which leads into wine with dinner. After the wine at dinner we are met with a champagne toast to honor the newlywed husband and wife. And as the night goes on the celebration and drinking continues well into the next morning. Planning to drink responsibly is the most important gift you can give to any bride and groom for there wedding. Any bride and groom will tell you all they want for their wedding reception is for their guests to have fun but for them all to make it home safe at the end of the night. If you are planning to drink a lot during the reception book yourself into a hotel in the area or arrange for a ride home a head of time. If you really  want to be the ultimate wedding guest keep an eye on friends and family at your table or around you and make sure no one drinks and drives.
rustic country burlap and lace wedding favor can cooler
by
ThemeWeddingBoutique
See another Drink Cooler at
Zazzle

BUBBLY BAR Glitter Garland. Wedding Reception Decor
Seating Arrangements – When you attending the wedding reception venue you will typically find out where you are supposed to be seated. Most weddings have a preplanned seating arrangement that the bride and groom have gone through and probably struggled with. Seating guests at different tables isn't as easy as it sounds. Most brides and groom's try to place guests by family, friends, and personality types. Loud people don't want to sit with quiet people and quiet people don't want to sit with loud people. People with small children typically want to sit by the door. A lot of thought and planning actually goes into seating arrangements. As the great guest you are trying to be you will sit in your assigned seat and enjoy the meal and evening they have planned for you. Depending upon how formal the wedding is you may receive a place card telling you where your seats are or you may just have to check the seating chart when you are signing the wedding guest registry. In some cases you will attend a wedding where they do not have assigned seating at the receptions. If this is the case have a look at how the tables arranged. You will see that their is a main table that is typically reserved for the wedding party. Tables closest to the main table are designated for the immediate family of both the bride and groom. If you are not in either the immediate family or the wedding party take a seat any table that has enough seats for your party and that is convenient for your party.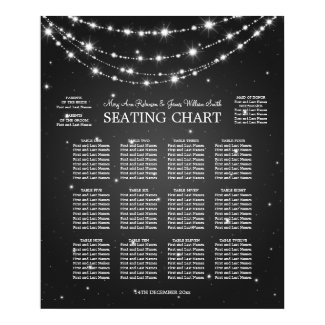 Elegant Wedding Seating Chart Sparkling Chain Blac Poster
by
Rewards4life
Shop for a
Poster template
or design online at Zazzle.com
Making A Toast – If you are a close friend, family member, or have been asked to make a toast to either the bride or groom make sure when you arrive you discuss it with the emcee hosting the wedding for the night. The emcee or host of the reception will fit you into an open slot during the reception. Most wedding receptions run through a tight schedule of events so the emcee will need chose the right moment for you. When writing your toast or speech consider the impact of what you are writing.  A funny or slightly embarrassing story might be better suited for a stag or staggette party. People want to look back at their weddings with fond memories. You can definitely use humor but make sure you right something appropriate and from the heart.
The End Of A Great Night
If you make a conscious effort to be a great guest at the next wedding you are invited to the odds are you will be. We hope we have given you a little bit of advice on how to be a great guest and take you through some of the processes on how to attend a wedding and how you can be that guest everyone wants at their parties.
We thank you for visiting Inn 2 Weddings we hop you have enjoyed your stay with us.

black gold wedding welcome sign
Click here to return to Attending A Wedding.
Click here to return to Our Home Page.
Summary
Article Name
Attending The Wedding Reception
Description
Attending The Wedding Reception wedding guest etiquette, tips on how to drink, seating and making a toast as a perfect wedding guest.
Author