Buying An Engagement Ring
For most of us guys myself included buying an engagement ring is an incredibly intimidating process. With the average cost of an engagement ring being around $6000.00 it might be the most expensive thing we have ever had buy in our lives up until this point. It is a lot of money to spend on something you probably know very little or nothing about. And the best thing you can do before you even start shopping is to educate yourself on some essentials of engagement rings.
The first thing you need to know about Buying An Engagement Ring is that it is symbol of love a man offers to a woman he loves when he proposes marriage. Neither you or her should put a price on that love you two share. You have the rest of your lives to build a great life together and you can always upgrade the ring when you are financially more secure.
As we said back in The Proposal the engagement ring you choose for her will essentially come down to your budget. You need to remember any debt you take on now will be shared with her when you are married and the reason that most marriages fail is because of disputes over money. Set a realistic budget and stick to it. You can find classy rings in any price range if you do a little bit of shopping around. We have a couple tricks and tips we can share with you to help you Buying An Engagement Ring.
So don't sweat it! No matter if you have a million dollars to spend or a hundred dollars you are definitely going to be able to find some she will love in your price range. Shop online is a smart way to find affordable engagement ring, the reputable companies are Amazon
, Etsy (CA) , Swarovski (US),The Jewel Hut ,
An Education In Engagement Rings
As we say throughout the entire website always start your search online. With no pressure to buy have a look around at some of the different retail jewellery stores and see what is out there in your price range. Engagement Ring prices and options really vary from store to store. So have a look and see what you can find in your price range that she will love. When you do go out shopping try at all cost to avoid financing the engagement ring. As we all know cash is king but for some of us we do have to take on a little bit of debt. If you don't already own a rewards credit card you may want to contact your bank. Now is a very good time to start collecting reward points that you can use later down the road. Weddings are very expensive so you might as well use that buying power towards paying for your Honeymoon.

Tear drop halo engagement ring

Modern Trillion Diamond Ring Set
Now lets learn a couple things about engagement rings.
The Four Cs of Buying An Engagement Ring
Cut – The most important factor of the ring. This affects the brilliance or the way light reflects off the ring. Essentially the cut gives the bling to the ring.
Clarity – Essentially clarity gives a rating to the number and severity of the flaws in a diamond. The more flawless your diamond is the more expensive it will be.
Carat Weight – Is the weight of the diamond. The more the diamond weighs the more you are going to spend on it.
Color – Is rated on a scale from Colorless (D,E,F), Near Colorless (G,H,I,J), Faint Color (K,L,M), Very Light Color (N-R), to Light Color (S-Z). If you are buying her a platinum or white gold ring try to match it with something that is between Colorless to Near Colorless. If you are planning on buying her a Yellow Gold ring the diamond could be in the light colored range. The Diamond will take on a bit of color from the ring so with yellow gold you can get away with a bit more color in the diamond.
Diamond Shapes
For the Shapes of the diamonds we will just touch on some of the more economical and popular. Their are a lot of different diamond shapes out their and all you have to do is find the one that suits your girl the best.
Round Cut – 75% of all diamonds cut are round cut. Round cut is one of the better cuts to reflect light.
Princess Cut – Probably the most popular of the fancy cut diamonds today.
Oval Cut – Is an elongated cut of diamond and is a good value. Due to the shape the diamond appears bigger then it actually is.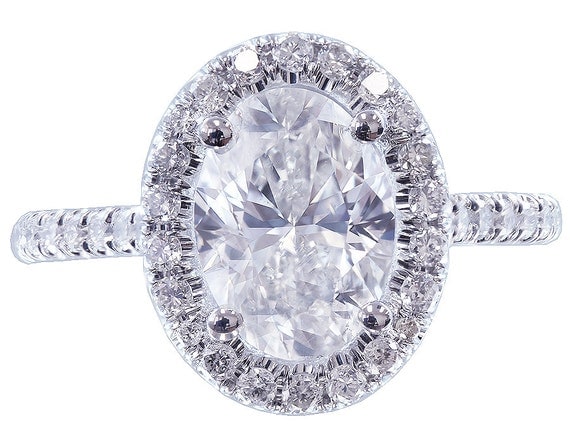 18k white gold oval cut diamond engagement ring 
Oval cut diamond engagement ring
Ring Settings
A Solitaire Setting – Solitaire is the most popular style of engagement ring setting today. As the name would lead you to believe the setting holds one single diamond at an elevated height to give the cut of the diamond maximum exposure to light.
A Pave Setting – The entire ring is paved with smaller diamonds to produce the most bling for your buck!
A Swirl Setting – The ring's setting swirls around the main diamond or diamonds.
A Halo Setting – The main diamond is the ring is surrounded by many smaller diamonds to make the center diamond appear larger.
A Trilogy Setting – Contains three diamonds with the center being slightly more elevated.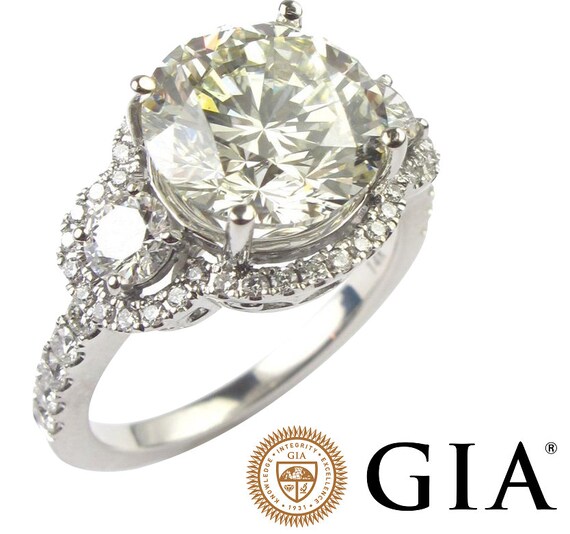 GIA Certified 4.01ct Round Brilliant Diamond set in 14k Custom 0.84ctw Halo Engagement Ring
Halo setting diamond engagement ring

Ring Options
The shank of the ring or in guys terms the ring part is typically sold in either in platinum or in gold.
Platinum is a very strong metal so if you have a very active girl in your life you may want to spend a bit more on a platinum ring. However for the platinum ring you can expect to spend at least twice as much as you would on a gold ring. Most people find that a platinum ring will feel heavy in comparison to gold but overall it is a much stronger metal and will fair better over time.
Gold engagement rings are typically sold either in 18 Karat or 14 Karat. A karat is essentially a unit of measurement to identify how pure the gold is. Pure gold is 24k, 18k is approximately 75% gold, and 14k is about 53% gold.  You would think the most popular ring would be the 18K but actually it is the 14k. A lot of people find the 18K gold to be too soft for a ring.

Oxidized Silver Labradorite Renaissance Style Engagement Ring
Tips To Save On Buying An Engagement Ring
The tips below will help you save on Buying An Engagement Ring.
Negotiate with the Jeweler. Rings typically have a high mark up. They should have some room to move on the price.
Shop the sales. Keep your eyes out between November and February for sales.
Buy the 14K Gold over the 18K or Platinum.
Look Online before you go to the stores. Search for promo codes or discount codes.
Shop around. Check out local jewellery Stores, retail chains, shop online The Jewel Hut  , Swarovski (US), Etsy (CA),even check stores like Costco.

V Jewelry Cecile Pre-Stacked Ring
Click here to return to Shopping For A Wedding.
Click here to return to The Wedding Proposal.
Summary
Article Name
Buying An Engagement Ring
Description
Buying An Engagement Ring tips, type of diamond rings, shapes of diamond rings, engagement diamond rings, vintage diamond rings,
Author