Gothic Wedding Ideas
If you are planning a gothic wedding, those Gothic Wedding Ideas might help you to get an idea of what you can create. Starting from the dark elegance gothic wedding dress, gothic wedding invitations to romantic gothic wedding decoration and gothic wedding favors to impress all your guests! Lace up your corset and enjoy the enchanting journey!
Gothic Wedding Invitations and Gothic Wedding Dress
The most important first impression of Gothic Wedding Ideas is charming gothic wedding invitations. It gives out the vibe of your wedding party and making your guests wonder what you have planned at your gothic wedding.

Black Sequin Maxi Dress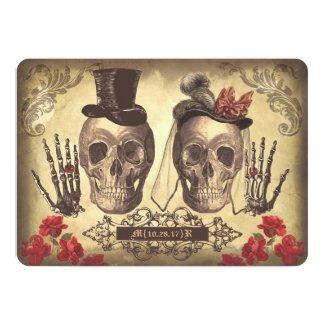 Gothic Skull Couple Day of The Dead Wedding Invite
by
jinaiji
Browse
Skull couple wedding Invitations
Gothic Skull Couple Day of The Dead Wedding Invite
Gothic old vintage wedding invitations with Victorian style skull couple. Perfect invite for Day of the Dead wedding theme.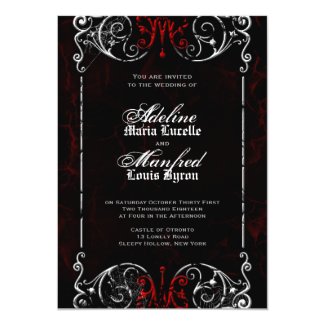 Gothic Victorian Spooky Red, Black & White Wedding Card
by
foreverwedding
Browse more
Wedding Invitations
Gothic Victorian Spooky Red, Black & White Wedding
These gothic victorian black and white wedding invitations are perfect for Halloween weddings, with an ornate, old-fashioned swirly frame, cracked with age, covered in spooky cobwebs, against a lightly textured, moody black and deep red background. The text is a combination of grunge script, classic easy to read block lettering, and Old English, medieval style type.
Gothic Black & Grey Flourish Wedding invitation
Gothic Black & Grey & Purple Flourish Wedding invitation. A fancy gothic victorian wedding invitation. Features a fancy damask pattern in grey and black tones. Classy, elegant and a bit offbeat in theme. Very classy with a fancy feel and would be great for any black tie or offbeat Gothic wedding! All text is customizable with your wording and font choices!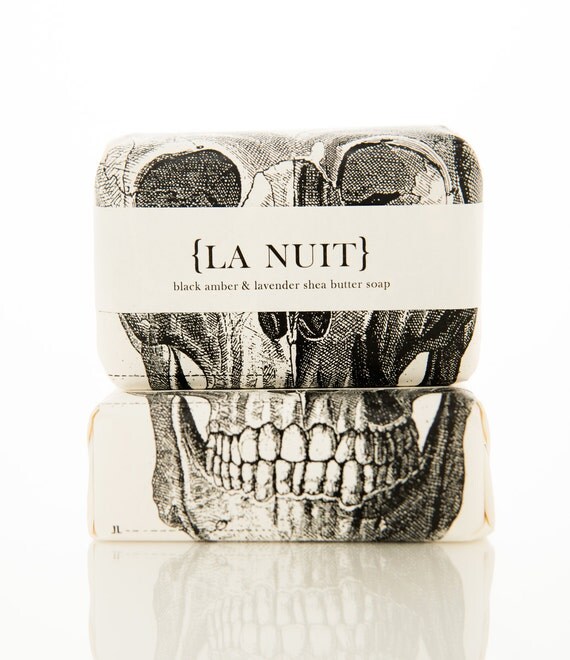 Black Amber & Lavender Shea Butter Soap – La Nuit
$9.00 USD This elegant amber and lavender soap will make a great bridesmaid gifts.
Gothic Wedding Inspiration Decoration , Gothic Wedding Favors
The following Gothic Wedding Ideas will help you on gothic wedding reception decoration and gothic wedding ceremony planning. The most important Gothic Wedding Ideas is to charm your guests with elegant gothic wedding favors.
Skull couple Gothic wedding paper napkins
Nice skull couple day of dead theme Victorian paper napkins for deadly amazing wedding!
Save
Save
Save
Save
Save
Summary
Article Name
Description
gothic wedding invitations, gothic wedding dress, Gothic bridesmaid gifts, gothic wedding save the date to romantic gothic wedding decoration , gothic wedding centerpiece and gothic wedding favors
Author