A Guide to Bachelor Party Ideas
The most important thing about A Guide to Bachelor Party Ideas is to remember you are planning a bachelor party is your are planning it just as much for the groom as you are planning it for the old married guys attending it.
Typically all of the planning and execution of a bachelor party falls solely on the best man but really any co-worker, friend, or family member can plan the bachelor party.
If you are trying to figure out when to have the bachelor party plan to have it one to two weeks in advance of the wedding. Most people nowadays don't have the bachelor party the night before. Believe me! No one wants to go to a church after a night of hard drinking and strippers.
Tips from A Guide to Bachelor Party Ideas. If this is the first time you have had to plan a bachelor party don't sweat it. Compared to planning a wedding and getting married you have it pretty easy. The first thing you should do is talk to the groom about how he would like to spend his last day as a single man. It is trendier now to skip the whole night of drunken debauchery and enjoy a day of male bonding instead. But if your friend wants to have the night of debauchery give it to him. When you plan a Bachelor Party make sure everyone has fun and make sure everyone is safe. If drinking is involved make sure everyone has a place to stay or a sober ride home.
Bachelor Party Ideas
Below are a few bachelor party tips from A Guide to Bachelor Party Ideas to get those creative juices flowing.
Weekend Camping or Fishing Trip Bachelor Party Ideas

 – Get out in the great outdoors and be men. Camping or going on a fishing trip is a great time for male bonding and what happens in the bush stays in the bush!

Take In An Evening Of Wine Tasting Bachelor Party Ideas

– If wine isn't your thing then by all means take some time to knock back some beers and/or whiskey with the guys. Most girls you know wont call it art but Candy is a professional dancer. Hit up a local gentlemen's club for a night of art appreciation with the groom to be.

Playing Cards Bachelor Party Ideas

 – Of you have a tight budget to work with get together at one of the guys houses to play some cards for the night.

Backyard BBQ Bachelor Party Ideas

 – Nothing is more manly then eating ribs, smoking cigars, and drinking beers on a deck you built.
After you have planned and chosen the day you now need to work out a guest list with the groom. It is his last day so you will want to make sure all his guys are there to celebrate with him. Depending upon what you have planned will help you narrow down the guest list. If you hitting the strip club he probably wont want his father in law there.
About three to four weeks prior to the party you should be sending out the bachelor party invitations to the guests and making the reservations for the party. On the bachelor party invitations let the guests know where it will be, the date it will be held, and what time they should be there. You will also want to let the guests know how much the party will cost them. Make sure you include the groom's share of the costs in everyone else's bill. The least you could do is cover his night.
Hope A Guide to Bachelor Party Ideas will help you have a fun filled bachelor party!
Things You May Need to Buy For The Bachelor Party Ideas:
Bachelor Party Invitations – In some cases you can get a way with inviting the guests with a quick call or email. In other cases you will want to send formal invitations. Below are some very affordable bachelor party invitations we were able to find.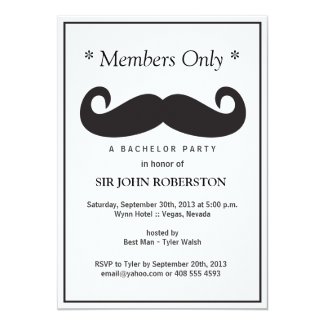 Members Only Bachelor Party Custom Announcements
by
Kreatr
Check out more Mustache Invitations at
Zazzle
 for weekend trip bachelor party ideas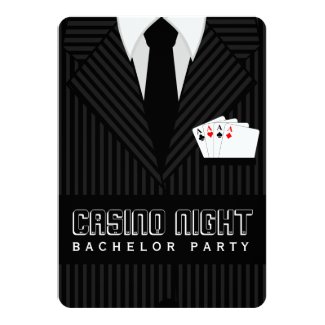 Casino Night Bachelor Party Custom Invitation Invite
by
sunnymars
View other Bachelor party Invitations at
Zazzle.com
 for Casino bachelor party ideas
Bachelor Party T-Shirts – Nothing says "awesome" like a bunch of drunk guys walking the streets in the same t-shirts. Here are a few t-shirts make his last night that much more Awesomer!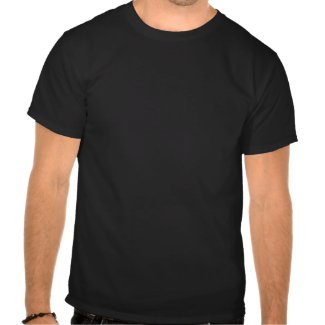 Warning Bachelor Party In Progress T Shirt
by
bridalboutique
See
custom shirts
online at Zazzle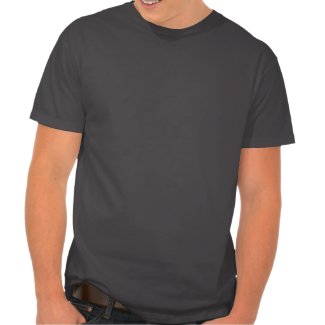 Bachelor party t shirt | Keep calm and kiss groom
by
keepcalmmaker
Find other Crown T-Shirts at
zazzle.com
Funny trendy Modern Geek Bachelor Party Fashion Tee Shirts
by
WearFetish
Make tshirt
online at zazzle.com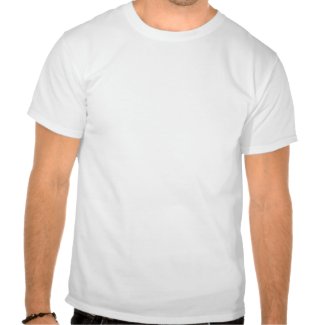 Bachelor Party Shirts
by
magarmor
Browse more Bachelor T-Shirts at
Zazzle
Bachelor Party Favors – Sometimes all the party really needs is a theme, game, or pimp cup to truly get it started. Here are some cheap bachelor party favors to fit any budget.
Team groom bachelor party shades for groomsman
by
logotees
Shop here for
Party Sunglasses
at Zazzle
Bachelor Party Trucker Hat
by
magarmor
See other
Bachelor Hats
Click here to go back to Our Wedding Shopping List.
Save
Save
Save
Save
Summary
Article Name
A Guide to Bachelor Party Ideas
Description
A guide to bachelor party ideas, from planning a bachelor party, bachelor party etiquette, bachelor party games, to bachelor party favors and invitations.
Author