A Guide To Bachelorette Party Ideas
The planning and hosting of the bachelorette party usually falls to the responsibility of the maid of honor. If this is you then congratulations are in order! You have been supported the bride with friendship and love over the years and she has bestowed upon you the honor of leading her bridal party. This responsibility may also fall upon a trusted family member, friend, or co-worker. Either way you have a bit of work to do but its nothing you cant accomplish without a little bit of guidance. Hence we offer a guide to bachelorette party ideas.
You will want to work closely with the bride to make this day very special for her. More and more now the trend is to make this day more about women bonding and celebrating the bride than excessive drinking and craziness. But if they bride wants that by all means give it to her. We will see with some of the more popular trends we suggest for the bachelorette party ideas that the party itself is becoming a more family friendly event then it has been in the past 20 years. You should be planning to have a lot of fun at the party but make sure everyone is safe. You have a lot of responsibility over the guests that will attend and if their is drinking make sure that everyone makes it home safe at the end of the night.

Maya Embellished Bodycon Mini Dress With Plunge Fron

t
The number one rule for A Guide To Bachelorette Party Ideas is that you have to plan for is what theme of party does the bride want. The easiest way to do this is to ask the bride what she wants and doesn't want at her party. Some brides will want a crazy night of drinking and strippers others would rather just have a nice dinner with friends and family. Either way find out what she wants and then set a date with her to host the party. The bachelorette party should be held about two to three weeks in advance of the wedding. Right before the wedding the bride will be extremely busy with rehearsals, fittings, and last minute details so the night before will not work. Plus who wants their photos taken after a night of heavy drinking. The final thing you should work out with the bride is a guest list. Have the bride give you the names and contact information from her about who she would like to have with her at the party.
Once you two have worked out the details of the Bachelorette Party Ideas, it is time to send out the invitations and make the arrangements for the party. If you are sending out formal invitations for the party you will want to send them out three to four weeks in advance. If you are working with a tight budget you may just want to call or email each guest to see if they are able to attend. You will also want to do this three to four weeks in advance of the party. Give the guests time to clear their schedules. According to A Guide To Bachelorette Party Ideas,Its customary for the guests to cover the brides portion of the bachelorette party. So when you notify the guests of the party let them know ahead of time what their share of the cost should be. Their share will also include a portion of the brides costs for the day or night.

Limited Edition Hen Party Crown

Kendall & Kylie Abi 2 Silver Leather Pointed Court Shoes

Lavish Alice Waistcoat Tailored Jumpsuit
A Guide To Bachelorette Party Ideas
Below are some trendy Bachelorette Party Ideas for modern Bachelorette Parties. Either way work with the bride and give her and incredible time.
Vintage Tea Party

 –  Vintage Tea Parties are making a huge come back when it comes to parties in honor of the bride. Both when it comes to bachelorette parties and also for the bridal shower. It symbolizes class, elegance, and sophistication. All the qualities of the bride to be. They are also a family friendly event where younger girls and older females can also take part in the fun.

A Day at the SPA

– Is another option for a bachelorette party where older and younger females can attend. The one thing any bride needs while she is planning a wedding is a day of pampering and relaxation. A lot of SPAs today do serve wine or drinks so this is the perfect starting point to a long crazy night. If that is what you are planning.

A Night On The Town

– After a hard day at the SPA Team Bride is now ready to take in dinner and a night of clubbing. Hit up her favorite restaurant then on to a couple bars for some madness. It's her last fling before the ring might as well make it a memorable one. This is one of the most popular Bachelorette Party Ideas.

Take in a Week at an All Inclusive

– If budget is not a factor then its time to get on a plane and head south for a week of pampering, sun, and memories that will last a life time.
Shopping for the Bachelorette Party Ideas
Below are just a few essentials that you may need to buy for the party. Remember to plan for fun but also plan for a safe night.
Bachelorette Party Invitations – Below are some sample invitations that any bride would love to have for her bachelorette party. Those are completely customizable and fairly inexpensive invitations.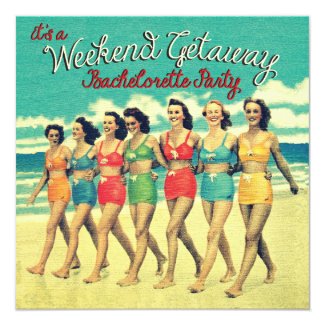 Bachelorette Weekend Getaway Party Invitations
by
McBooboo
View other
Bachelorette party Invitations
 for beach bachelorette party ideas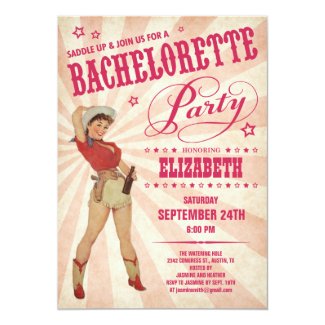 Cowgirl Bachelorette Party Invitations
by
Western_Invitations
Check out Cowgirl bachelorette Invitations online at
zazzle
 for western cowgirl bachelorette party ideas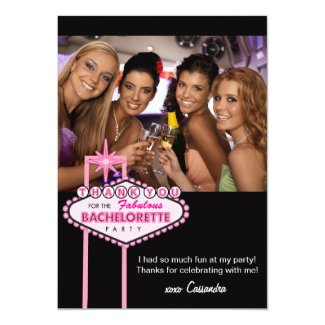 Bachelorette Party Thank You Card Photo – Vegas Personalized Invitations
by
tobegreetings
See more
Bachelorette Invitations
 for Las Vegas bachelorette party ideas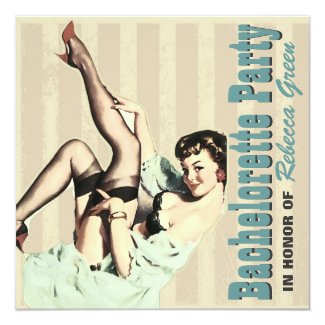 retro vintage pinup bachelorette party invitations
by
elegantinvitation
Browse Retro Invitations online at
Zazzle.com
 for vintage pin up girl bachelorette party ideas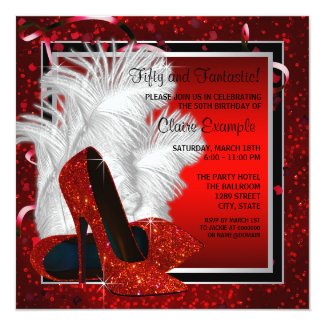 Womans Black and Red High Heels Birthday Party Custom Invites
by
Pure_Elegance
View other
Womans 50th birthday party Invitations
 for modern chic girls night out  bachelorette party ideas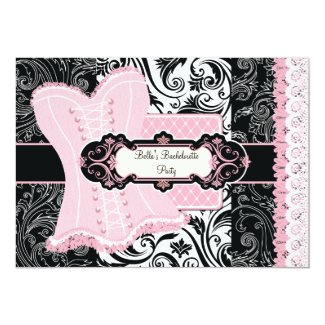 Bachelorette Party Invitation
by
BellaLuElla
Browse other
Bachelorette Invitations
 for hot lingerie party bachelorette party ideas
Bachelorette Party Favors – Games, Rings,flasks, pins and Bachelorette Party favors oh my!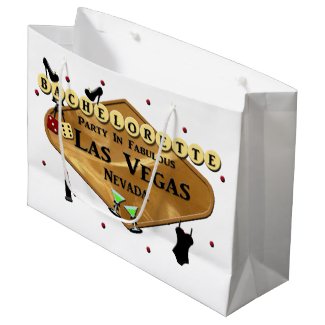 Las Vegas BACHELORETTE PARTY Gift Bag Large Gift Bag
by
vegasdusoleil
Browse for
Gift Bags
at Zazzle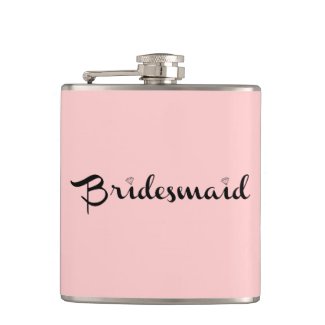 Bridesmaid Black On Pink Hip Flasks
by
BetterOffWed
Check out more Bride Flask at
Zazzle
Bachelorette Party Shirts – If Team Bride is hitting the town why not do it in style in these great bachelorette party shirts.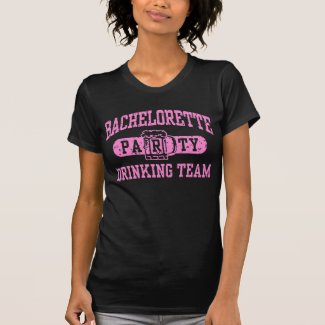 Bachelorette Party T Shirt
by
magarmor
View more Bachelorette T-Shirts at
zazzle.com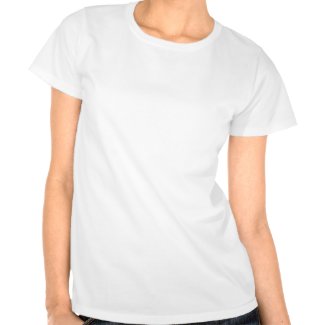 Bride Pink Baseball Tee
by
twilight_cat
Browse Bride T-Shirts online at
Zazzle.com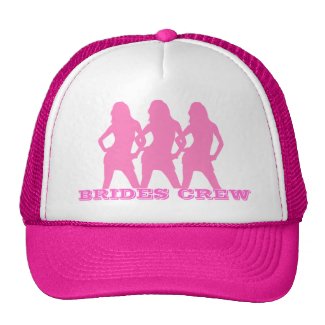 Pink dancing girls, brides crew trucker hats
by
leather_and_lace
Design a unique
custom hat
at Zazzle
Save
Save
Save
Save
Save
Summary
Article Name
A Guide To Bachelorette Party Ideas
Description
We offer practical A Guide To Bachelorette Party Ideas, the bachelorette party organization, bachelorette party planning, bachelorette party etiquette.
Author