Preparing to Attend A Wedding
Once you have confirmed your attendance to the wedding you will have to spend a little bit of time preparing to attend the wedding. The minute you drop your R.S.V.P off into the mail their are two things you should do immediately. The first thing you should do is book time off of work if you haven't already done so. If the wedding is in your hometown and its on the weekend your not going to have to use any of those precious vacation days of yours.  But if you do have to do a bit of traveling your are probably going to have to take a bit of time off. It may just be a Friday or Monday or you may want to book the entire week off. Weddings can be a great excuse to take a mini vacation. With a little bit of research online we are sure you can find something fun to do in any town or city.

Custom Cotton Bridesmaid Dresses

Dance Floor Decal, Wedding Floor Decal

Printable Wedding Welcome Bag Letter, Wedding Welcome Note
Making Travel Arrangements
So for those of you that don't have to make any arrangements see you at the next section Dressing For The Wedding. But for those of us who have to travel we really have a couple options for making arrangements. We can either book through a travel agent or we can make the arrangements on our own. Even if you are planning on using a local travel agent do a little research online before you book anything. Companies like Expedia and Travelocity have made booking flight, hotels, and rentals cars as easy as telling your local travel agent where you want to go and what you will need when you get there. The benefit of looking online first is you will have an idea on what the flight, hotel and rental car should cost you. You will find that most travel agents and online travel agents have fairly similar pricing. But it never hurts to shop around.
We also recommend that if you are looking at booking your travel arrangements online to search the name of the company you are looking at booking your travel arrangements with and the words coupon or promo code. Sometimes you can get lucky and find a promo code that will give you some additional savings when you are checking out. You should do this anytime you shop online as most online stores usually have a promo running. You just have to do a bit of searching for a promo code.
If you haven't already checked it out we have more information on making travel arrangements under Booking Your Honeymoon. It is information we provided to the bride and groom but this information should help anyone who needs to take a longer vacation or who has to travel internationally for a wedding.
romantic beach wedding programs -sunset lights sea
by
jinaiji
Create a rack card online
using zazzle.com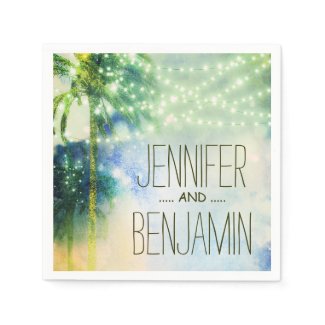 watercolor beach teal wedding string lights napkin
by
jinaiji
Check out other Beach Paper Napkins at
zazzle.com
Dressing For The Wedding
Six to eight weeks prior to Preparing to Attend A Wedding you will want to check your closet to make sure you can properly dress for the wedding. Sometimes we think we have the perfect outfit to wear and it turns out its either been sitting to long in the closet and it is faded or sometimes when you let clothes sit to long in the closet they can shrink a little. Either way make sure you try your stuff on long before the wedding just in case you have to pick up something new to wear for Preparing to Attend A Wedding.
Below we have included a list of links to tutorials to help you look your best at the wedding.
Below we have put together some examples of items you may have to buy for the wedding. Have a look you might just be missing something.
The Ladies
If you do need to update that wardrobe for the wedding below are some items you may need to purchase.  Preparing to Attend A Wedding is a great excuse to add something new to your closet or dresser.
Dresses – Dresses are typically the standard attire for female guests. But depending upon the style of wedding and your own personal taste pants and blouse are always fashionable for women at weddings.

Fold Over Bandeau Mini Prom Dress In Placed Bouquet Floral

Lace Bodice Jumpsuit
Shoes – Now's your chance to add another pair of shoes to your collection.

ASOS SHOWCASE Pointed Lace Up Heels

Embellished Wide Fit Ballet Flats

ALDO Chareri Blue Platform Sandal With Braided Ankle
Hand Bags -Make a statement at your next wedding or formal event with one of these great hand bags.

Ted Baker Satin Clutch Bag

Metallic Shell Clutch Bag

ALDO Beaded Box Clutch Bag
Make-up and Perfume – Its never a bad idea to have a make-up kit and a bottle of designer perfume to wear on special occasions. The following innovative make up will help your daily makeup routine a lot easier.

NYX The Curve Liner

Benefit Dandelion Shy Beam Highlighter
Ciate Mini Triple Shot Mascara
Jewellery – Usually the final piece we put on before we go to a wedding or formal event and the one item we can wear that makes the biggest impact. Remember try and not upstage the bride!
The Guys
Don't let the lady on your arm down. She is going to go out of her way to look her best for this wedding. Look your best at this wedding or any formal event coming up in the near future with a new suit, tie, or accessory.
Suits – Everyone looks good in a tailored black suit. No wonder it is a staple for men to wear to a wedding.
Ties -Let your personality shine through that standard black suit with one of these great neckties.
Shoes – Always buy new or shine your dress shoes before a wedding or formal event. Yes! Most people do notice dirty or scuffed dress shoes.
Cologne – You are probably looking pretty handsome with a new Suit, Tie, and Shoes but make sure you smell the part to. Smell your best with a new bottle of designer cologne.

Jewellery – Isn't just and accessory for the ladies. Check out these great necklaces, cufflinks, watches, and bracelets to make a bold statement at your next formal event.
Click here to Return To Attending A Wedding.