After you have chosen The Venue it is time to chose a theme for the wedding ceremony. Every wedding including your own will have a theme. Whether you are having a traditional church wedding or a rustic country wedding your wedding will be based around a theme. The basis for any wedding theme essentially comes down to how you plan to dress and decorate for the day.
Below are some common examples of wedding ceremony themes.
One thing to remember is nothing is set in stone when decorating for the theme of your wedding. This is your wedding you are planning and everything is up to you. Just know your style will come through in how you plan the theme of your Wedding. It should be pretty amazing!
Every young girl dreams of her wearing an amazing dress to her wedding. Because of this we recommend you take your time and do some research before you head out to your local boutique to buy a dress. Over the last 20 years their have been a lot of advancements in the wedding industry especially with online shopping. So take a good look online and get an idea of what you like, what is trendy, and what the dress should cost. If you are on a tight budget and renting a dress sounds gross to you shopping online is a great alternative renting. But if you decide to order online make sure you order as early as possible and you understand that companies return policy. If the dress you receive is not to your liking make sure you can return it. You will also want to have enough time to get it fitted by a local seamstress. Bridal Magazines are another great place to start your search for a wedding dress. These companies employ some of the top people in the wedding industries and you will see what styles are setting trends before they even hit the stores. They will also give you some ideas on how to decorate your venues.
Once you have chosen your perfect wedding dress you want to focus on how you want your bridesmaids to look. Choose colors specifically that compliment your dress and style. All of us have colors that make us look our best. Surround yourself with these colors. Now we got the girls dressed need to dress the groom.
Just like the brides wedding dress we recommend the grooms also start their search online. Shop around and get a feel for both the style of suit or tux you want to wear and the cost. Then head out to the local tailor and start shopping. As a groom you want to look sharp but you aren't there to steal the show. Be very careful choosing your colors and accessories. A red tie might be your style but it may be a bit too much for the wedding. That top hat, cane, and monocle might also sound like a great idea now but take our advice and save it for Halloween. Let your beautiful bride have this day to shine.
If you do find a suit online that you want to order make sure you order it well in advance of the wedding. You will also want to know the return policy as well just in case it is not what you expected or it arrives damaged. Their is a lot of great deals to be had online. Just do your homework, read the reviews of that company, and understand their return policy.
Hey That's Our Song! Choosing the Perfect Wedding Music.
Another thing you are going to have to consider for your wedding ceremony is the music. The type of music played at your wedding ceremony will come down to the bride and grooms personal taste and also the options you have at your venue. For example if you are having a church wedding the church may have its own organ and player.  If this is the case you may only have choose the arrangement of songs they play. Even though you have dreamed of your Uncle Jim singing at your wedding and he has the voice of an Angel he may still be banned from your church. All we are trying to say is different venues have different options. When you book the venue make sure you ask about what options you have available to you.
Working Out the Seating Arrangement
One more thing you are going to have to consider for the ceremony is who is the seating arrangement. In a more traditional wedding the brides family and friends would sit on one side of the venue and the grooms family and friends on the other side. A more modern approach used today is to have your ushers seat the guests as arrive. You are going to need a couple Ushers at your wedding ceremony to meet, greet, and seat your guests. Your Ushers will also provide your guests with the wedding programs outlining the order of ceremony.
If you are planning a smaller more intimate wedding you may want to ask both sets of your parents to be the Ushers. They can accept all the congratulations for a job well done raising you both. And they should also know who to sit by who for each side of the family.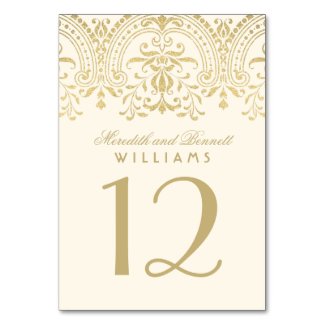 Wedding Table Number | Ivory and Gold Colored Table Cards
by
Plush_Paper
Check out other Wedding Tablecard at
zazzle.com
Now we need to plan The Reception!
Take me back to The List
Summary
Article Name
Description
The Wedding Ceremony ideas on wedding ceremony themes, wedding ceremony decoration, bride checklist, groom checklist, wedding music selection, wedding seating arrangement.
Author