Wedding Planning Resources
Below we have put together a top 10 list of Wedding Planning Resources you can save money on your wedding that should help you stay on budget. We have also provided you some links to products you may find helpful. With a bit of hard work you will have that fairytale ending you have dreamed of and you will still have a bit of money in the bank. You will find the Internet is one of the best wedding planning resources you can find.

Chi Chi London Tulle Dress With Lace Bodice
10 Tips To Saving Money While Shopping For A Wedding
Get yourself a rewards credit card. Even if you have the cash to buy something use the card to build up the rewards points. Just make sure you pay off the balance before the end of the billing cycle so you don't get hit with having to pay any interest. The points you accumulate could add up to pay for your honeymoon or a good portion of it. You will be spending a lot of money on your wedding. Use that buying power to get something in return.
Do your home work online before you even set foot into a store. Every time we walk into a store we feel pressure to buy something. If you don't buy something when you are walking out of the store you are going feel like they probably think you are a shoplifter. Just kidding! Know exactly what you want and know how much it should cost. If its cheaper in your local store buy it. If you can find it cheaper online buy it. Try to avoid paying more for the exact same products.
Set up for an email account that you will use for mailing lists. Every time you go to a retailer's website sign up for their mailing list. These stores will email you when they are having sales. You might be able to get a really good deal on an expensive item you want.
Before you purchase anything online Google search that store's name with the word promo code, or coupon, or discount. Usually you can find a discount that you can apply at the check out.
Ask for a discount. Especially with wedding vendors. They usually have some room they can move. If they don't their competitors probably do.
Pick the battles in your wedding budget wisely. For example if you have a budget $5000.00 for your wedding dress. You need to think about the future value of it. You are only going to wear it once and it is going to sit in a box the rest of your life. If you search around online you can probably order the same dress directly from the manufacturer for $500.00. That is $4500.00 you just saved that you can put towards a down payment on a home. Or you could upgrade your shoe budget to $500.00 as you can at least wear those shoes again. Then you could spend a $1000.00 on a camera that you can let your amateur photographer friend use to take photos at your wedding. After your wedding you have some pretty amazing photos and a pretty nice camera that you get to keep. The remaining $3000.00 would probably cover all or a pretty big portion of the cost of your honeymoon. By compromising on one aspect of your budget you just paid for four expensive parts of your wedding. But if you need that specific dress from that store buy it! Just juggle the budget in other areas.
Choose off days for your wedding. Saturdays are the busiest days for weddings and you will pay a premium for it. If you choose a Friday, Sunday, or Monday you can usually get a discounted rate.
Reduce the size of your guest list – If you can reduce your guest list by even 10 people you will save big. Say your reception dinner is $50 per plate. If you can cut your guest list by 10 people you just saved $500.00.
Instead of buying every guest a keepsake make a charitable donation. If you have to give a keepsake make it yourself or give candy that you can buy in bulk.
Buy a 14k gold engagement ring vs 18k gold or platinum. When you hit the lottery in a year or two you can always upgrade your rings.

Bow Box Bag
Great Wedding Planning Resources
Planning Guides – Are a great resource for planning a wedding. You will additional tips and tricks to help you get through the tough parts of planning your wedding.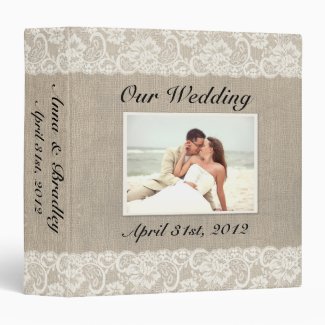 Rustic Lace & Burlap Look Wedding Album Binder
by
ModernMatrimony
Look at other Wedding album Binders at
zazzle.com
Bridal & Wedding Magazines
– Are great resources for planning a wedding. The photos and articles in these magazines provide really great inspiration for planning weddings.
Hope those Wedding Planning Resources will help you make your dream wedding coming true.
Click here to return to Our Wedding Shopping List.
Save
Save
Save
Summary
Article Name
Wedding Planning Resources
Description
Wedding Planning Resources on wedding planner, wedding organizer, wedding magazines, wedding ideas books, wedding photography ideas book.
Author